THE SHOPPING EXPERIENCE THAT MAKES THE DIFFERENCE
Simple, secure, seamless.
We work directly with the banks and turn any payment card into a loyalty card.
I link my card to Spaycial
You link your payment card with our secure Spaycial services.
I pay in my favorite stores
When your shopping session comes to an end, you pay with your credit card.
I am automatically rewarded
Your purchases are directly identified and rewarded without any action needed.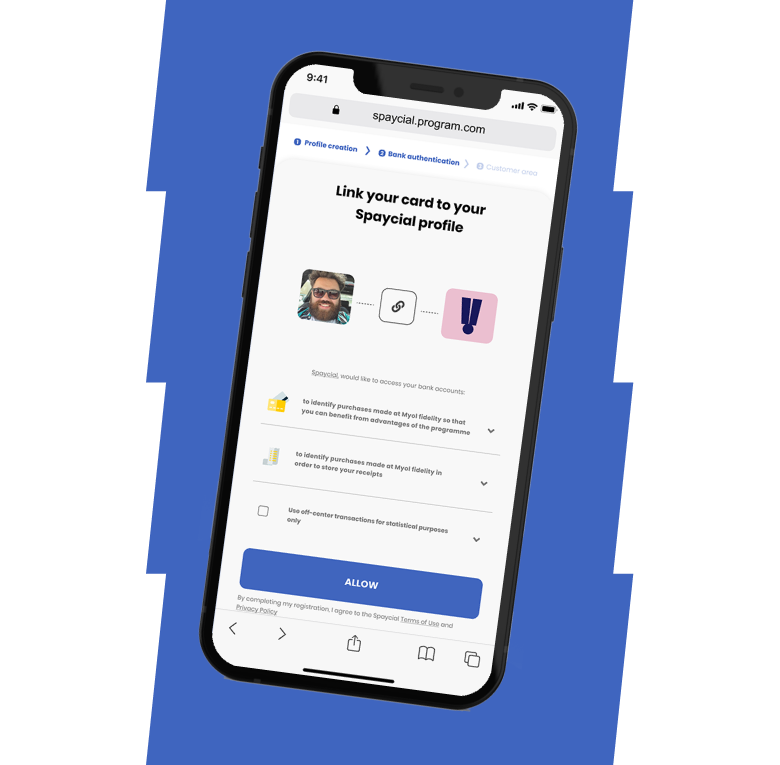 With Spaycial, your shoppers are automatically identified when paying. No more archaic means of recognition (QR code, loyalty cards) and enjoy directly their advantages.
Better relationships between shoppers and brands
ACPR Payment Institution Approved
Spaycial is approved by the French Financial Authority (ACPR) as payment institution (CIB 17038) and is GDPR compliant.
Privacy by Design
We treasure your end-user trust, we never compromise on ethics and security.
Happier Shoppers
Shoppers are automatically recognised and rewarded thanks to a personalized journey while their payment data is protected by DSP2.
First-party payment data
Spaycial is the first platform that allows you, thanks to our next-gen loyalty program, to collect and analyze raw first-party transactional data about your customers.
Online and offline, in and out your stores
You can collect data from the online and offline shopping of your customers and from all their shopping spree, not just in your stores.
No hardware nor POS integration
We bring you break-through tech with no hardware nor integration needed in your stores.